My Favorite Greige Paint Colors
Paint can be so tricky to figure out. It usually never looks like the swatch and can vary so drastically between wet and dry and night and day. Luckily when it comes to greige paint colors, i've done a lot of the work for you! Almost all of the interior paint I've chosen for our home is classified as a neutral greige and five years later, I still love the colors I chose. So I wanted to share with you a list of the greige colors I have in my own home. All of the colors are from Benjamin Moore and the reason I chose this brand is because it's a high quality paint that has held up incredibly in our home. It's easy to clean and durable. You definitely get what you pay for with Benjamin Moore in my opinion.

All six of these colors make up the majority of my home for the past five years now and I am really happy with how they've continued to be favorites of mine. They are classic neutral colors that can blend seamlessly with pretty much any decor style and are guaranteed to increase the value of your home if you ever go to sell it.
This color is not currently in my home, but soon will be. If you've been following along, you'll know that I am in the works of turning my living room into a formal dining room. Currently the room is painted Benjamin Moore's Oat Straw which is too tan for my liking and so I wanted a softer greige. Pale Oak is the color I will be painting the room.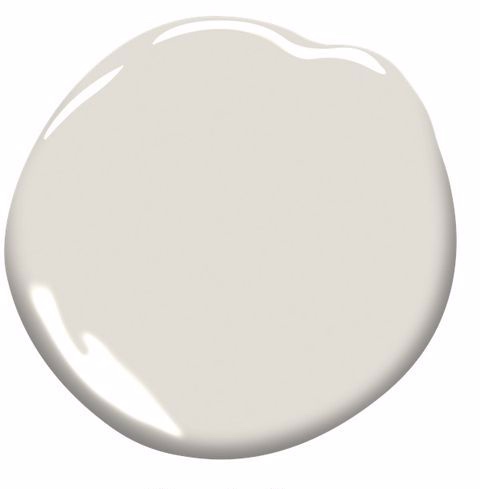 Classic Gray is the color I chose for Ryder's nursery. It is very light and in my home turned out a little lighter than the swatch looked. In my opinion, it is the most airy of the colors I've featured and probably the most gray of them all as well.
Edgecomb Gray is what I chose to paint our master bathroom and bedroom. It is probably my favorite of all the colors I am featuring. It is airy without being too light, and in my opinion, the perfect shade of greige.
If you've ever searched paint colors on Pinterest I'd bet you'd know that Revere Pewter is still one of the most popular paint colors on the site. I myself found it on Pinterest and fell in love with it. I chose to paint one of our second guest bedroom with this color and I always get compliments on it. It is a little darker than the other colors, but still airy.
Elmira White was a color I chose last minute to paint our entryway and upstairs hallway. Originally I had chosen to do Grant Beige but felt that color was a little darker than I wanted for the hallway since there isn't any natural light. Elmira White is the next lighter shade after Grant Beige. I am very happy I chose last minute to do the lighter color in the entryway!
Grant Beige is the color in my kitchen, family room. and downstairs hallway. We get a lot of natural light in these rooms which really brighten up the space and is the main reason why I did not use Elmira White in these rooms.
So I would love to hear form you; would you use any of these colors for your home? Which one is your favorite? Or least favorite? Comment below!